---------------------------------------------------- -----

Investing is risky, can you accept it?

Afraid of investing and tired of managing

fear of time management

Fear of increasing burden from investment

These problems will go away. Let us arrange for you to see real profits.
"Investment House"
It's not difficult because there is a team to take care of the house management. cleaning team ready Don't be overwhelmed to find
100% income guarantee because we have a professional marketing team.
Earn income as if you were at home for free, without wasting time or full-time work. because you don't have to waste time taking care of yourself
Answers to investments that generate passive income
---------------------------------------------------- ------
It is a daily and monthly resort, including a coffee shop, a restaurant. organic farm in Hin Lek Fai District It is about 180 kilometers from Bangkok, takes about 3 hours to travel. Baan Rabiang Khao Resort. It is a place to show a corner of Hua Hin. Not only the sea, but also privacy. Naturally, there are fruit and vegetable farms and mountain ranges. Leave the hustle and bustle of Bangkok Based on the idea that I don't want to receive many people, I want to be relaxed. We therefore organize activities for families or couples within our resort such as such as swimming in the pool in the middle of the garden farm fresh vegetables Riding a bicycle, looking at the view, taking pictures, visiting the farm, including picking vegetables and laying hens, as well as having goods Organic for sale, which we developed Phase2-4 for customers to choose the right accommodation. Accommodates from 2 to 10 people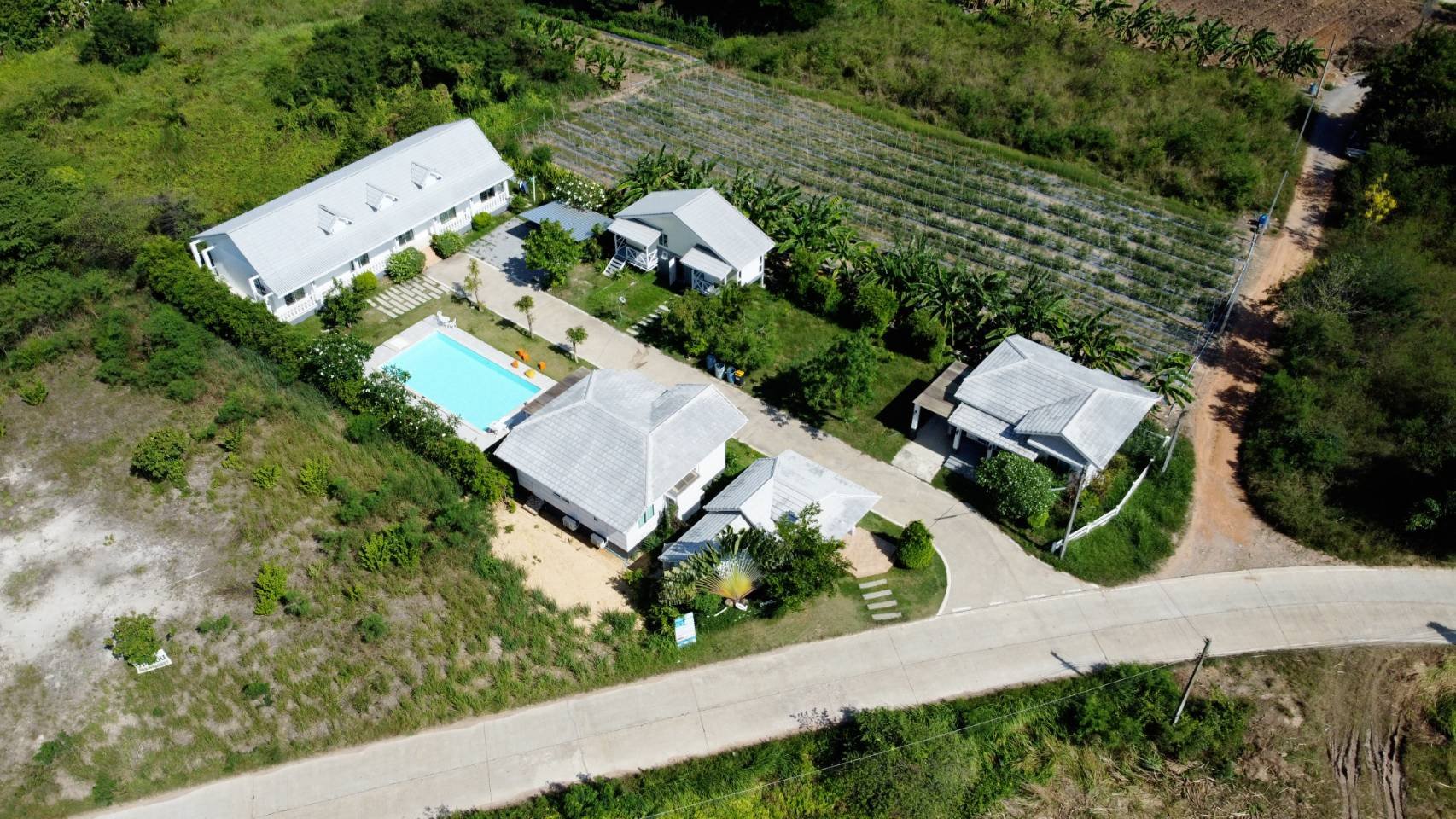 From accommodation to important places

Huay Mongkol Temple 5 km
Black Mountain Water Park 6.8 km
Rajabhakti Park 24 km
Chang Hua Mun Project 39 km
Pala-U Waterfall 49 km
Khao Sam Roi Yot National Park 60 km
Khao Hin Lek Fai Viewpoint 14 km
Hua Hin Market 12 km
The route to the resort
By car, it takes about 2-3 hours to travel from Bangkok and drive to the intersection where you need to enter the town of Hua Hin. to drive off the Prachuap Khiri Khan route
- Trains are available at Bangkok Railway Station (Hua Lamphong) and Thonburi Railway Station to Hua Hin Station daily. It takes about 4-5 hours.
- Buses leave the Southern Bus Terminal every day, several times a day. The journey takes about 3 hours. It is recommended to call the bus schedule at 1490.
- Vans are available in many places The cost is about 180 baht.